If you're like most people, you probably dread having to straighten your hair every morning. It can be such a pain, and it often takes so long. But what if there was an easier way? What if you could just use an electric hair straightening brush to get the job done in a fraction of the time?
Believe it or not, there is such a thing as a "best" electric hair straightening brush, and we're going to tell you all about it. Keep reading for information on five of the top-rated models on the market today.
Factor to Consider When Choosing Electric Hair Straightening Brushes
There are three main factors to consider when choosing an electric hair straightening brush:
Temperature Control – Since they use direct heat, hair straightening brushes can really burn your hair if you aren't careful. You need a unit with temperature controls that allow you to adjust the heat setting appropriately.
Bristle Material – Most models are made with bristles that are either ceramic, tourmaline, or both. Tourmaline is considered to be very gentle on your hair while still getting the job done, which makes it a top pick for many consumers. If you've got really curly or frizzy hair, however, you might want to opt for a model with only ceramic bristles instead.
Shape of the Brush Head – Some units have large brush heads that are perfect for quickly straightening longer lengths of hair. Others have smaller heads that are better designed for use in shorter styles. Make sure that an electric hair straightening brush has a shape and size that will accommodate what you need it for.
5 Best Electric Hair Straightening Brushes
GLAMFIELDS Ionic Hair Straightener Brush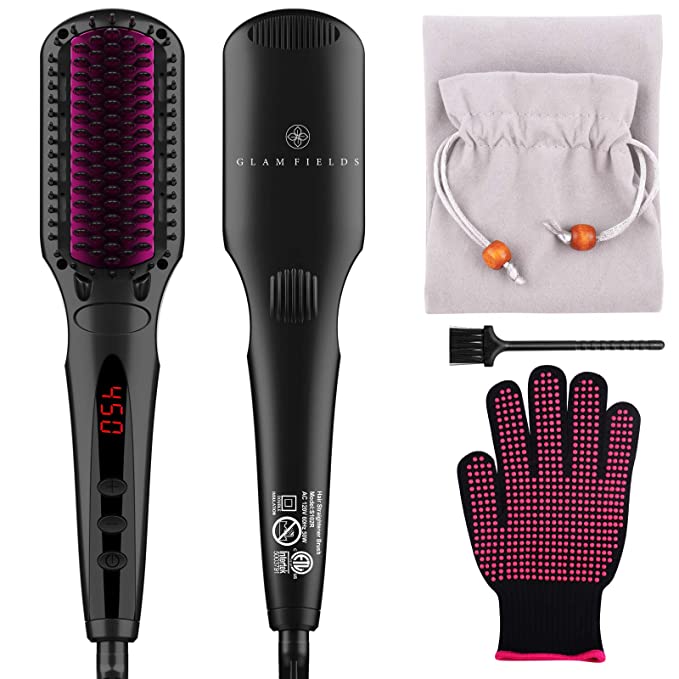 GLAMFIELDS Ionic Hair Straightener Brush is the perfect device to keep your hair healthy and frizz-free. It releases rich negative ions and far Infrared which help in eliminating frizz, knotting, and split ends. This helps in improving the overall quality of the hair, resulting in much smoother and healthier hair that is easy to manage anytime, anywhere.
The straightener brush heats up within 30-40 seconds, saving time and energy. This is possible because of its MCH technology which improves the overall user experience. Its wider structure and denser comb teeth help reduce the time for straightening considerably.
The GLAMFIELDS ceramic straightening brush is equipped with safety controls like the auto-shutdown and temperature lock to ensure maximum security and optimum performance at all times. Temperature lock ensures that there is no abrupt rise in temperature which can harm the hair.
The device auto shut-offs if it is not used for continuously 60 minutes, thereby preventing any energy wastage and prolonging the life of the machine as well.
CNXUS Ionic Hair Straightener Brush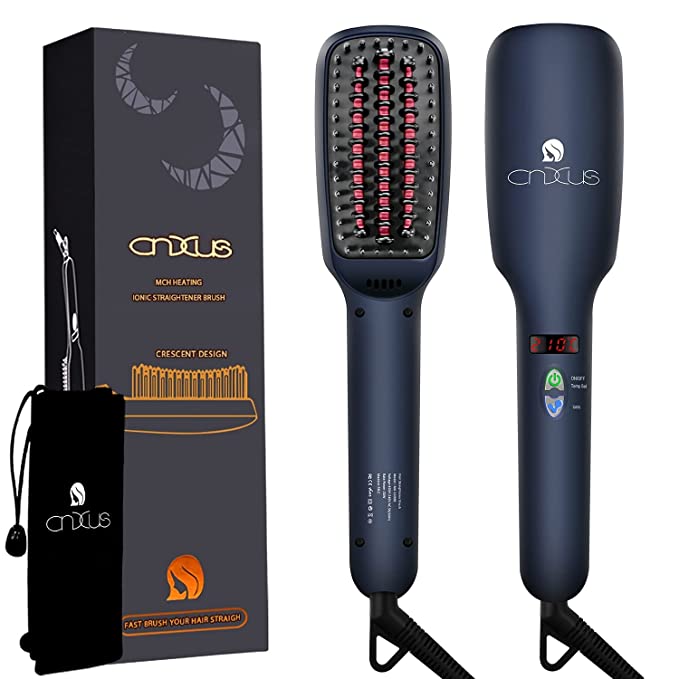 The CNXUS Ionic Hair Straightener Brush is designed to help straighten hair while also providing some health benefits to your hair. The brush has an advanced MCH heating system that quickly heats up and provides even heat distribution.
Additionally, the brush features a 360° swivel power cord, automatic turning off the feature, and dual voltage. The bristles surrounding the heated area protect you from burning, and the brush will turn off after 30 minutes of use.
Overall, this brush is a great option for those looking for a safe and efficient way to straighten their hair.
Enhanced Hair Straightener Brush by MiroPure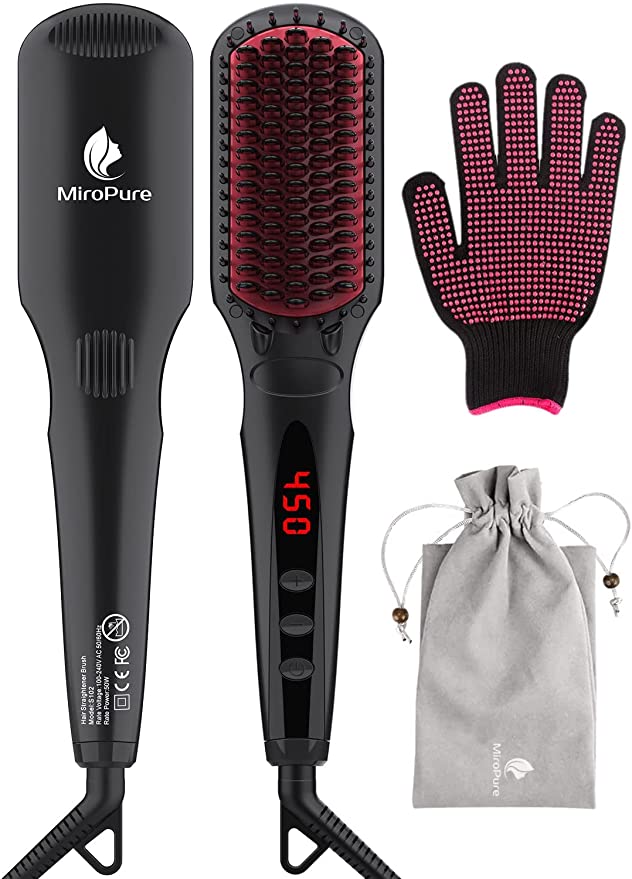 The MiroPure Enhanced Hair Straightener Brush is a great tool to have in your arsenal for straightening your hair. The double ionic generator produces negative ions which help to seal the cuticles, reduce split ends and knots, and give your hair a healthy, natural look.
Not only that, but the brush also has an auto-off and auto-temperature lock feature for maximum safety. It's simple to operate and comes with a 360-degree swivel power cord.
The high-density nano comb brush is perfect for curly hair, and the adjustable heat temperature from 150°C (300°F) to 230°C (450°F) ensures that you can find the perfect temperature for your specific hair type. In just a minute, the MiroPure Enhanced Hair Straightener Brush can heat up to the desired temperature and produce great results.
REVLON One-Step Volumizer Original 1.0 Hair Dryer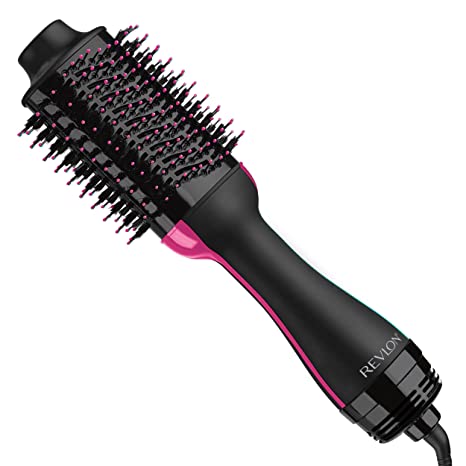 The Revlon One-Step Volumizer Original Hair Dryer is a great product for those who want to style, dry, and volumize their hair in one step. The unique non-detachable oval brush design helps to smooth the hair while the round edges create volume.
The volumizer also has a nylon pin and tufted bristles that help to detangle and control hair. It is designed with 3 heat/speed settings and a cool option, giving you styling flexibility. The volumizer meets U.S. safety requirements and is ETL certified.
It is designed for 120 volt USA outlets only and should not be used with a voltage converter or adapter, as it will damage the unit.
To keep your volumizer in the best condition, clean your air inlet regularly and remove hair from the brush after every use. Do not wrap the cord around the unit when storing it.
Graphene Times Ionic Hair Straightener Brush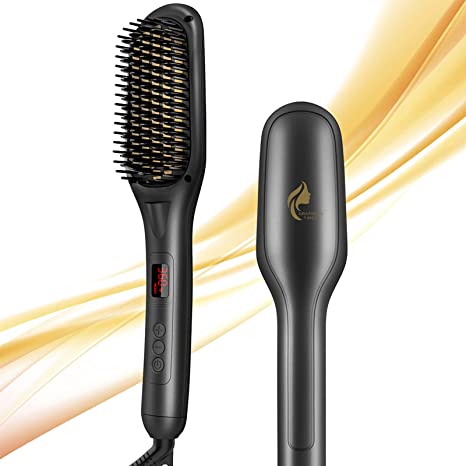 It comes with a unique anti-scalding brush and MCH heating system, which ensures quick, safe, and professional results – even at home! With 15 temperature levels to choose from, this brush is perfect for all hair types.
The temperature of the hair is precisely maintained thanks to an LED display and a stand-alone digital panel that shows both Fahrenheit and Celsius. The fast heating metal ceramic heater (MCH) system, which is ideal for hair salons, may heat up quickly and maintain a constant temperature.
Plus, it automatically switches off after 60 minutes of inactivity to keep you safe. So if you're looking for a versatile and safe hair straightener brush, the Graphene Times Ionic Hair Straightener Brush is a great option.