Going to the beach in the summer without a sun hat is like inviting a sunburn onto your head. You may not feel the heat at first, but after a few hours of being in the sun, that burn is going to start to hurt. Not only that, but you're also going to be feeling it for a few days after.
When the weather starts to heat up, it's time to start thinking about sun protection. And what better way to protect yourself from the sun than by wearing a sun hat? Here are five of the best sun hats for men that will keep you cool and protected this summer.
Factors to Consider When Choosing Sun Hats for Men
While there are many different sun hats available for men, it's important to consider a few key factors when choosing the right one for you. Some of the most important factors to consider include material, fit, and style.
First, it's important to think about the material of your hat. A wide variety of materials are available, including cotton, wool, straw, and more. It's important to choose a material that will keep you cool in hot weather while still protecting you from harmful UV rays.
Second, it's also crucial to pay attention to the fit of your sun hat. Ideally, your hat should provide plenty of coverage over your face and neck while still staying comfortable on your head. Look for hats with an adjustable strap or tie that can be customized for a perfect fit.
Finally, don't forget about style! Sun hats come in a wide range of styles, from classic fedoras to trendy bucket hats. Choose a style that matches your personal fashion sense and you'll be sure to turn heads all summer long.
5 Best Sun Hats for Men
There are a number of sun hats for men on the market that you can choose from to help protect your head from the damaging effects of the sun. Here are five of our favorites:
EINSKEY Sun Hat for Men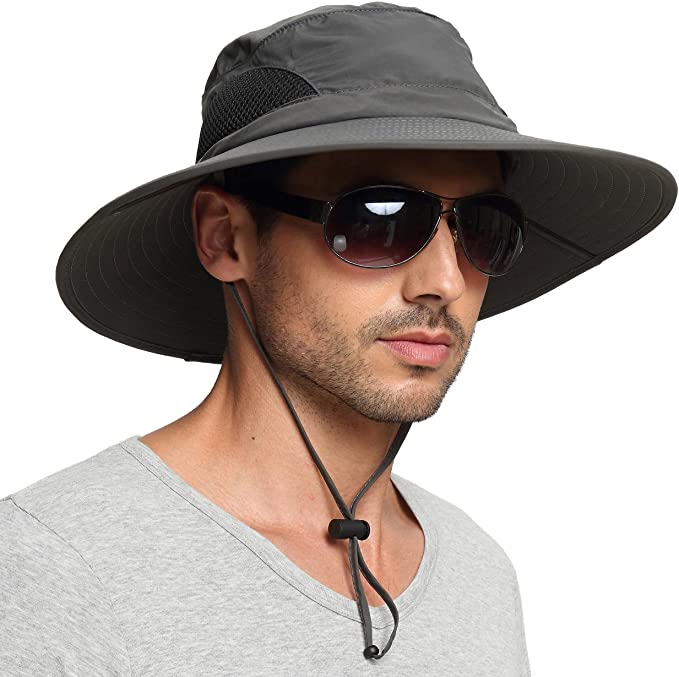 The EINSKEY Sun Hat for Men is perfect for keeping you safe from the sun's harmful rays. The wide-brimmed design blocks out UV radiation, while the water-repellant polyester material keeps you dry in light rain showers. The hat is adjustable to fit most head sizes and features a built-in sweatband to keep your forehead cool and dry.
The mesh panels allow for moisture and heat to escape, keeping you comfortable even on the hottest days. The hat can be folded in half and easily carried inside your bags, making it great for everyday use or outdoor activities like fishing, hunting, camping, hiking, or gardening.
Dukars Unisex Wide Brim Sun Hat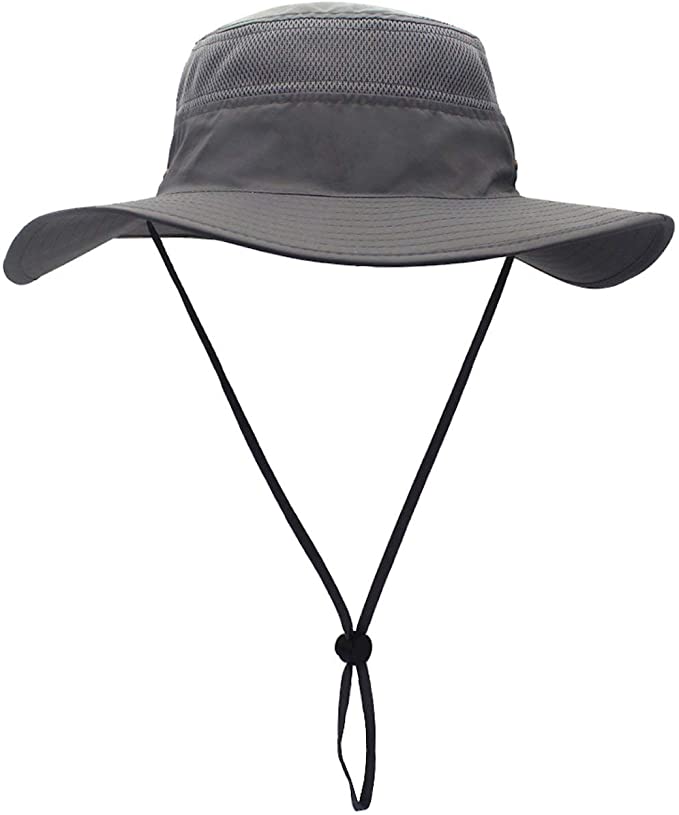 This hat is made of 100% polyester and features UPF 50+ protection, which blocks out 98% of harmful UVA and UVB rays. It's perfect for beachgoers, fishermen, hikers, campers, travelers, hunters, and gardeners alike.
The hat is also foldable and packable, making it a great choice for road trips or weekend getaways. Additionally, the hat has mesh panels and two-side air vents to keep your head cool on even the hottest days. The one size fits most design ensures a snug and comfortable fit for most adults.
CAMO COLL Outdoor UPF 50+ Boonie Hat Summer Sun Caps
Made of 100% polyester, this soft and breathable hat is perfect for any outdoor activity. The diameter is 7.5 inches on the inside and 13.4 inches on the outside, making it adjustable to fit most heads.
With a UPF 50+ rating, this hat will protect you from harmful UV rays. The hat also features a drawstring closure to keep it in place on windy days and mesh ventilation panels to keep you cool. Pick up one of these hats today and enjoy your next outdoor adventure worry-free!
Top LEvel Outdoor Fishing Sun Cap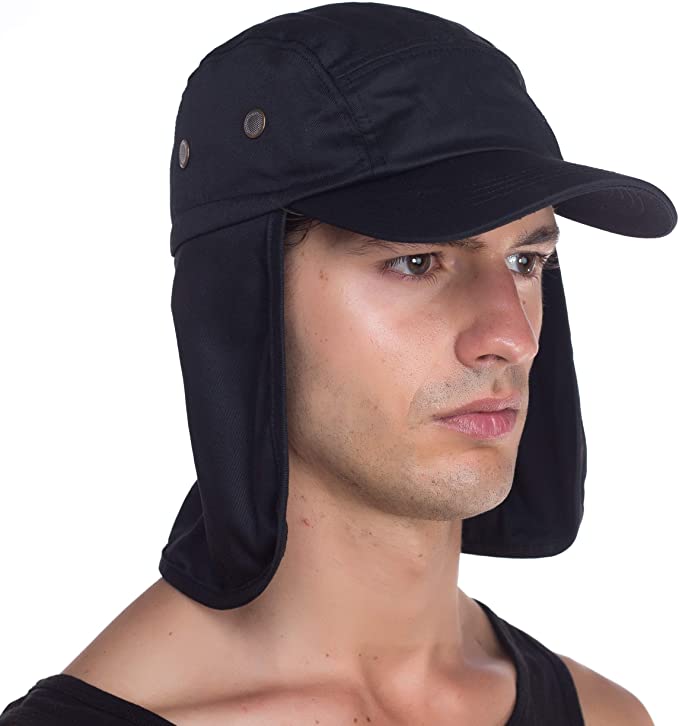 This wide-brimmed hat is made of lightweight and breathable materials, ensuring that you'll be comfortable even on the hottest days. The cap is also equipped with a practical sun protection flap that can cover the back of your neck and your ears, preventing any sunburns or irritations.
It is made with quality materials and features state-of-the-art production processes, making it the perfect choice for all your outdoor adventures.
Sun Protection Zone Unisex Lightweight Adjustable Outdoor Booney Hat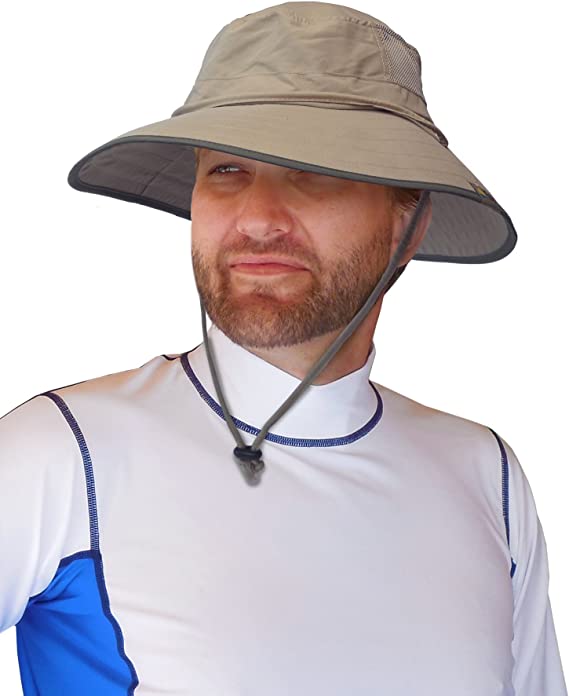 When the sun is out and the temperatures are rising, you need to be prepared with the right sun hat. The Sun Protection Zone Booney Hat is perfect for keeping you cool and protected from the sun's harmful rays. The lightweight 100% polyester construction makes it easy to wear, and the adjustable fit ensures a comfortable, secure fit. With a 4 ¾" brim and 100 SPF/ UPF 50+ protection, this hat will keep you safe from the sun all day long.