When it comes to shampoo and conditioner, most people just grab the first thing they see on the shelf. But what if we told you that there are better options out there? That by taking a little extra time to find the perfect set, you could transform your hair?
Check out our list of the five best shampoo and conditioner sets for healthy, beautiful hair. From volumizing to clarifying, we've got you covered. So don't wait – start shopping today!
Factors to Consider When Choosing Shampoo and Conditioner Sets
Ingredients: When it comes to shampoo and conditioner, the first thing you want to look at is the ingredients. This is what's going to determine how effective your set will be. Look for natural products over those with chemicals, as those will damage your hair more than they'll help.
Hair Type: If you've got thin, fine hair, use shampoo and conditioner that's designed for thin, fine hair. If you have dry, damaged hair, get a set designed to reduce damage and promote growth. Your hair type should always come before your preferred style or type of product, so keep that in mind when looking for the right set.
Price: Of course, you're not going to want to break the bank when it comes to shampoo and conditioner. The good news is that there are plenty of high-quality products available for under ten dollars a piece. Look for affordable items without sacrificing quality before splurging on something more expensive.
Brand: Finally, consider the brand of the products you're buying. Some companies are known for their high-quality items while others are associated with low-quality products that don't work. If your set is cheap, then it's probably because of a low-quality brand. The more expensive the product, the better chance that the set is high-quality.
5 Best Shampoo and Conditioner Sets
WOW Skin Science Apple Cider Vinegar Shampoo & Conditioner Set
Their Apple Cider Vinegar Shampoo & Conditioner Set is perfect for detangling and restoring shine to your hair. It also helps to fight flakes and defeat dandruff. The Color Safe Shampoo and Conditioner Set is perfect for all hair types, and the Hydrating Shampoo and Conditioner with a nourishing oil blend will help to revive and refresh dry, damaged hair. And best of all, these products are vegan, sulfate-free, silicone-free, and mineral oil-free!
They treat your hair with a combination of natural ingredients and essential oils to leave it soft, shiny and smelling wonderful.
TIGI Bed Head Urban Antidote Recovery Shampoo & Conditioner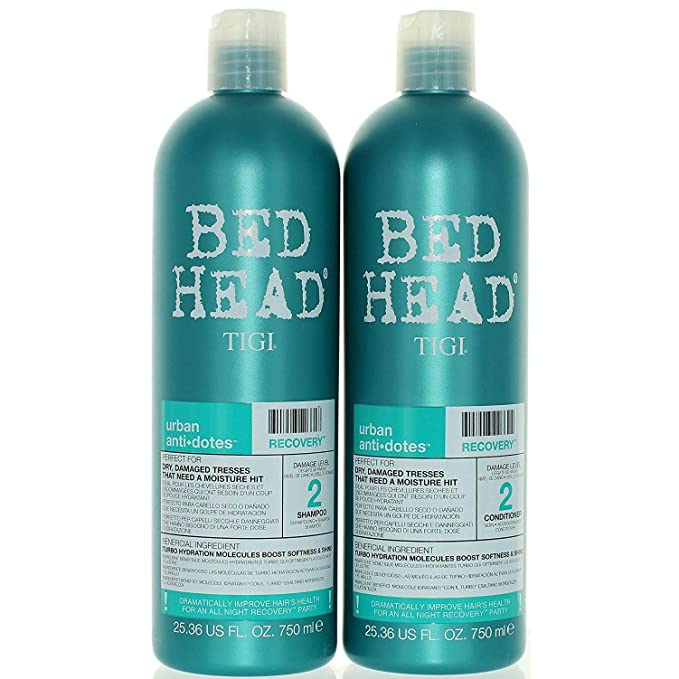 Dry, damaged hair needs all the help it can get to recover, and that's where TIGI Bed Head Urban Antidote Recovery Shampoo & Conditioner comes in. They're perfect for restoring moisture to hair that's been over-dyed, fried, or just generally abused. The shampoo strengthens and shines worn-out locks while the conditioner helps to moisturize and repair the damage. Plus, they make your hair smell amazing!
Biolage Colorlast Shampoo is one of the best options for people with damaged, color-treated hair. It can be used every day and will leave your hair feeling soft, shiny, smooth, and luxurious.
The shampoo contains glycerin which helps cleanse the scalp and away from impurities from the strands while also penetrating through to provide deep conditioning. Biolage has been a worldwide leader in hair care since 1957 so they know what they're doing when it comes to making high-quality soap!
The fragrance is light and pleasant, not overpowering. The bottle is a little small when you consider that most shampoos last around 32 washes (around two months).
With the exception of their hair color products, Biolage has always been my favorite brand and I've never been one to change brands.
Moroccan Argan Oil Shampoo and Conditioner Set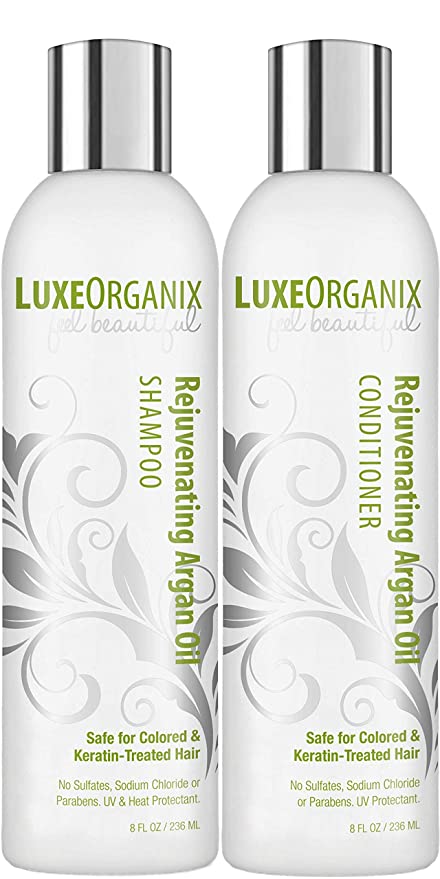 Moroccan Argan Oil is made with only the finest and most beneficial ingredients, including vitamins, antioxidants, and UV absorbent properties to revitalize your hair while locking in color. TThisshampoo and conditioner set contains none of the sulfates that many people find drying to their scalps and leaves behind an icky greasy feeling.
The Moroccan Argan Oil is an amazing moisturizer and helps to restore your hair to a dazzling glow. The shampoo and conditioner set has vitamins, antioxidants, and UV-absorbing properties. These benefits make this product one of the best shampoos for dry or chemically treated hair.
BOTANIC HEARTH Watermelon Shampoo and Conditioner Set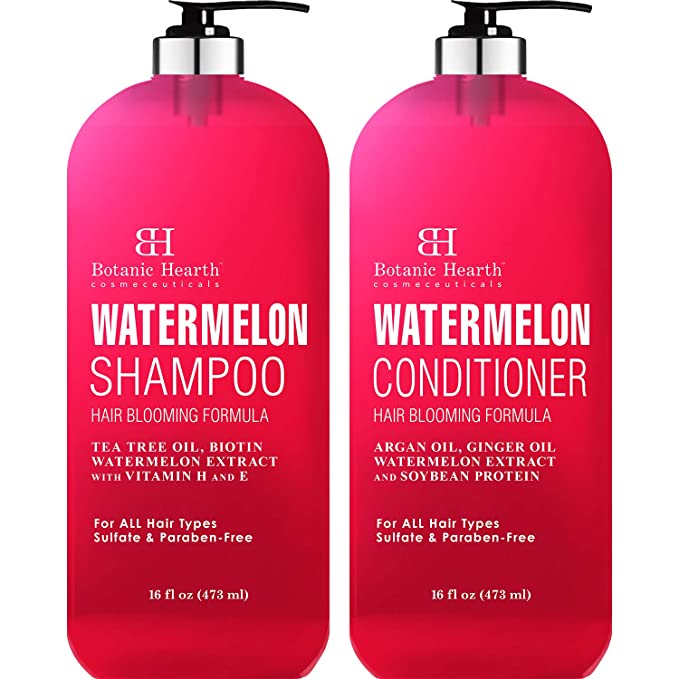 Enhance your hair growth, fight hair loss and moisturize with BOTANIC HEARTH. This watermelon shampoo and conditioner set comes in a 16 fluid-ounce bottle for unisex use. The natural essential oils get itchy, dry skin calms down so that you can have a sleek head of hair without the itchiness or dandruff keeping you up at night!
BOTANIC HEARTH's gentle ingredients are high quality, organic and sulfate-free. Parabens will not be found anywhere on this product because they are known to cause cancer while SLS is harsh enough to strip all of the nutrients out of one's locks.
The best part about these products is the fact that they are vegan and cruelty-free! No more having to stress about your shampoo or conditioner harming any puppies or kittens. Now you can fully embrace your no animal testing policy with a clear conscience.