When it comes to packing for a weekend getaway, or even a week-long trip, most people turn to the trusty duffle bag. A duffle bag is a perfect option because it's spacious enough to fit all of your belongings, but not so large that it becomes cumbersome to carry. And if you're looking for a stylish and sophisticated option, a leather duffle bag is the way to go. In this article, we will introduce you to five of the best leather duffle bags available on the market. Read on and find out which one is right for you!
Factors to Consider When Choosing Leather Duffle Bags
Style: If you're a more conservative dresser, opting for a more classic duffle bag is probably your best bet – but that doesn't mean that fun and interesting patterns can't be incorporated into the design. More experimental bags have been popping up in recent years featuring bright colors and detailed patterns to represent your personality.
Material: Leather is one of the most versatile materials you can put on a duffle bag. Of course, there are plenty of other options, like nylon and canvas, but leather tends to hold its shape better than other materials while still providing optimal flexibility. Leather is also extremely durable and will last for years if cared for properly (i.e., immediately remove dirt or stains with a damp cloth). If you're going for a more classic look, opt for a smooth finish. But if you want a contemporary style, choose a bag with a textured, pebbled appearance.
Size: Since the purpose of a duffle is to hold all of your belongings, it's important that the bag fits everything from weekend essentials to your gym clothes. Backpacks are also an option, but many people prefer the ease of rolling bags for their accessibility.
Price: While you don't have to spend hundreds on a leather duffle bag, it's important that you don't mindlessly shop for price alone. You can get a great deal on outdoor gear like tents and backpacks, but when it comes to a duffle bag, you need to ensure that it offers the quality and durability that you're looking for.
Construction: There are many factors to consider when purchasing a leather duffle bag. In addition to style, material, size, and price, make sure that the bag is well constructed from sturdy and smooth materials. A single stitch or loosely secured zipper can make all the difference in terms of your comfort and convenience when packing and using the bag.
5 Best Leather Duffle Bags
Leathario Leather Luggage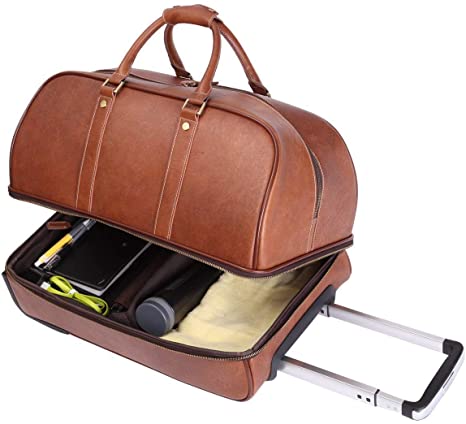 Leathario Leather Luggage is a luxurious and sturdy option for travelers. Whether you're taking a weekend trip or embarking on a longer journey, this bag will hold everything you need while keeping them organized. The two-way zipper allows easy access to your belongings, and the large opening makes packing a breeze.
The upper part of the bag features 2 slots and 1 zippered inside compartment, perfect for transporting clothing, laptops, notebooks, wallets, cameras, and other essentials separately from each other. The lower part of the bag has spacey storage space that's ideal for culture bags, documents, magazines, and shoes.
With high-quality metal zippers that are easy to open and close, comfortable handgrips for easy transport, and 2 long-life rollers and a professionally worked suit, this leather bag is the perfect addition to your travel options.
Piel Leather 20In Duffel Bag with Pockets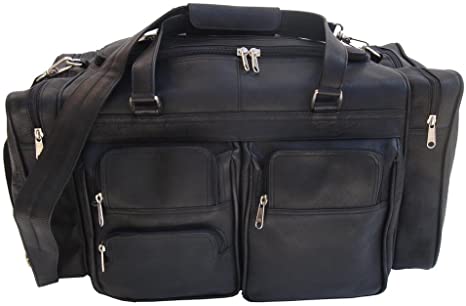 Piel Leather Duffel Bag is durable and can handle just about anything you throw at it! The soft leather lining ensures your clothes stay safe, clean, and germ-free. It fit easily in the overhead luggage compartment on most planes, so packs a lot of room while staying compact enough to be carried around with ease.
With the adjustable handle, you can wear it like a backpack, or hook on the strap to wear it across your body. It has several pockets inside and out for stowing smaller items.
People who bought the Piel Leather Duffel Bag are happy with how easy it is to adjust the leather strap cross-body style, keeping their hands free while traveling. They like that there is a sturdy handle at the top for lifting or carrying their bag into overhead compartments on public transportation and planes.
Kenneth Cole Reaction I Beg to Duff-er' Full-Grain Colombian Leather Travel Bag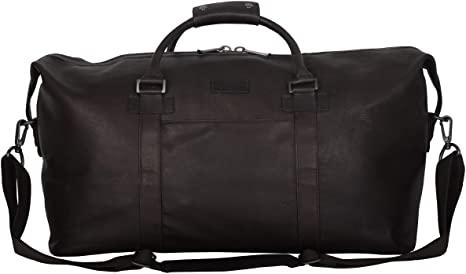 Kenneth Cole Reaction I Beg to Duff-er' Full-Grain Colombian Leather Travel Bag is a modern and stylish leather travel bag that's sure to gain compliments! The non-slip shoulder pad and adjustable strap help make your next trip less strenuous.
The tear-resistant lining helps keep clothes fresh during transit, while the front exterior pocket offers quick access for any last-minute needs. This product meets most US airline carry-on standards and is FAA approved as well so you can take it on flights with no problem.
Leathfocus Leather Travel Luggage Bag With Side Pocket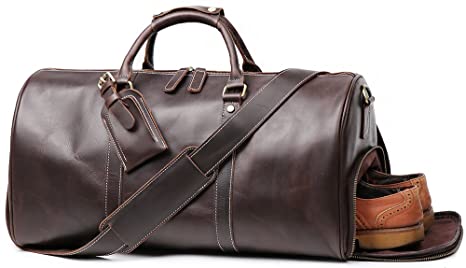 If you're looking for a stylish and sturdy duffle bag that can handle all your travel needs, then pick the Leathfocus Leather Travel Luggage Bag! Made of premium leather, this bag features YKK zippers for extra security, rolled top handles, an adjustable and detachable shoulder strap, and inner slide padded pockets to protect your belongings.
Whether you're hitting the gym or taking a weekend getaway, this bag has got you covered. It features a large main compartment and three small pockets for your pens, phone, travel wallet, passport, etc. The bag is made from extremely durable material that can take a beating from being thrown around in the trunk of the car to being dragged through hazardous airport terminals. It's also TSA compliant so you can carry it onboard your next flight as an added bonus.
In addition to its great features, the Leathfocus Leather Travel Luggage Bag comes in a wide range of colors from which you can choose. With so many benefits and so much style, it's no wonder why this bag is one of the top-rated duffle bags on the market!
Piel Leather 24In Duffel with Pockets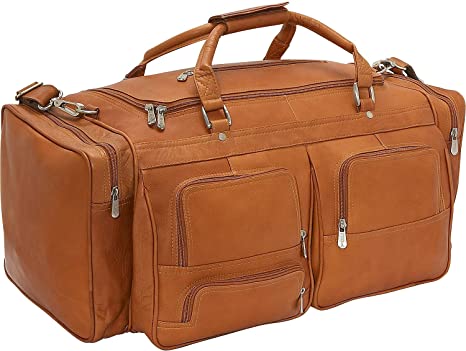 This is a leather duffel bag that has been meticulously stitched to last. This durable product was made to be chic, sleek, and functional. It's versatile and can easily transition from work to weekend mode without missing a beat. The padded shoulder strap offers an extra level of comfort for hands-free transportation as you head out the door with this durable leather bag.
This is an exquisite 100% genuine leather suitcase that is designed for both airplane travel or everyday living life on the go -allowing you to pack everything in one piece! Best of all, when it's time for checked baggage it folds down fairly flat making packing easier than ever before -no more complaints about lost luggage!