When the temperature starts to drop, you need a good pair of winter boots to keep your feet warm. Here are five of the best winter boots for women on the market today.
Factor to Consider When Choosing Winter Boots For Women
Material: The material that your winter boots are made of is one of the most important factors to consider when choosing a pair. Look for waterproof and suede leather materials as these will do a much better job at keeping out moisture and providing insulation. If you like, look for thermal wear lined inside, they may be a little more expensive but it'll really make a difference in keeping your feet warm.
Heel: A high boot with a winter or rubber sole is usually the best choice when choosing warm winter boots. It's important to choose a boot that has very few seams and can be easily cleaned if needed.
Sole: The material of the outsole will play a vital role in the comfort and performance of your winter boots. Look for a sole that's made of rubber or other materials which provide good traction on ice and snow. In addition, the thickness of the outsole must provide insulation to keep your feet warm.
Shoe width: Choose winter boots with round toes rather than pointy ones as these are more comfortable for women with wider or flat feet. Boots should also have enough room in the toe box so your toes don't rub together when you walk around.
Style: Take some time to consider what style best suits your needs before making a final decision. It's important to choose styles that are durable enough for cold weather wear but also can be worn throughout more mild winters as well.
5 Best Winter Boots For Women
Bearpaw Women's Emma Short Snow Boot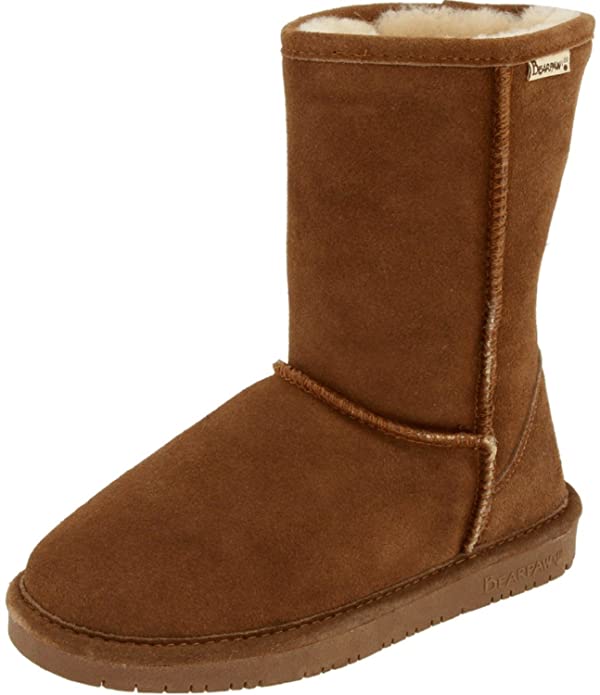 Looking for a stylish and practical winter boot that will keep you warm and comfortable all season long? Look no further than the Bearpaw Emma Short Snow Boot. Made of 100% suede with a rubber sole, this boot is perfect for keeping your feet warm and dry in cold weather.
The sheepskin lining ensures that your feet will stay cozy all day long, while the heel and platform measure 1″ and 3/4″, respectively, providing a touch of style. With a shaft measuring 9″ from arch, the Emma Short Snow Boot is sure to keep your feet protected from the cold winter weather.
Kingshow Women's Globalwin Waterproof Winter Boots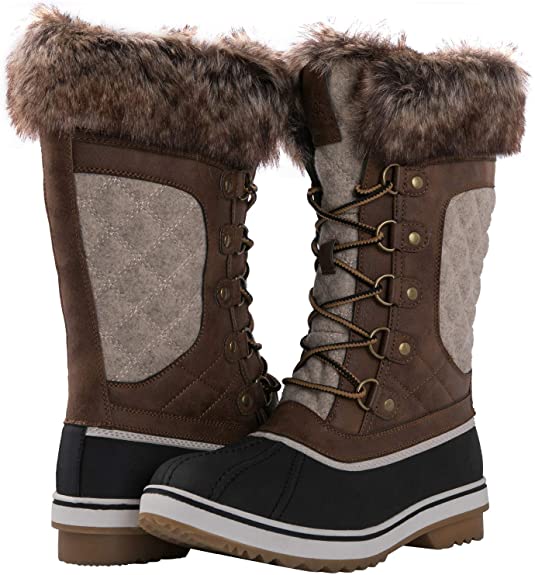 Kingshow women's Globalwin Waterproof Winter Boots are for you! This remarkably water-resistant design is perfect when you have to tackle unexpected weather. Made with rubber outsoles that are great on damp surfaces, these shoes provide reliable protection on slushy roads.
Featuring a warm and comfortable lining that keeps your feet safe from wintry storms, you can enjoy the rain or snow in peace! These high-quality products last so long it might be hard to let time ruin them. With this investment, your feet will always stay dry & comfy during harsh times.
Kamik Women's Momentum Snow Boot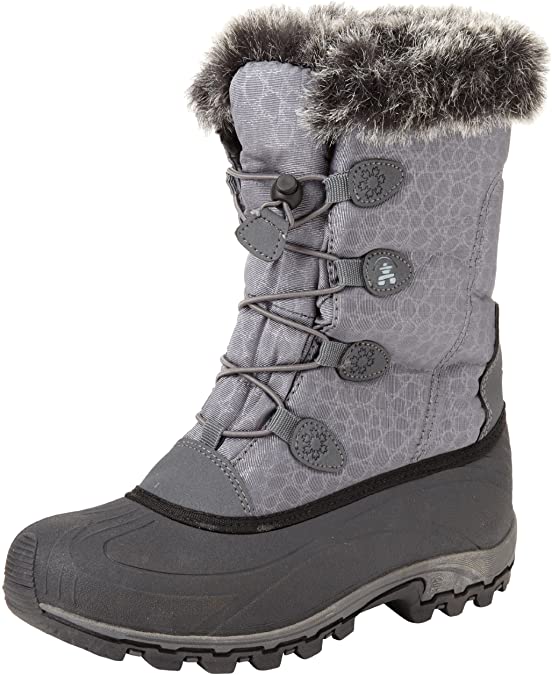 With a tough, rugged outer shell that is engineered to protect your feet from the harshest of winter landscapes and temperatures as low as -25F (-32C), Kamik's Momentum Snow Boot is an excellent choice for those who want a durable, good-looking boot with high warmth.
Made in America or imported, this lace-up style features a faux fur collar that wraps around the crown of your ankle for extra warmth and protection against frigid winter winds. It has been seam-sealed to keep out cold drafts and snowstorms.
Comes with even grippier PEAK rubber soles equipped with secret chemical additives that improve traction on icy surfaces without damaging them over time.
Northside Women's Kathmandu Waterproof Snow Boot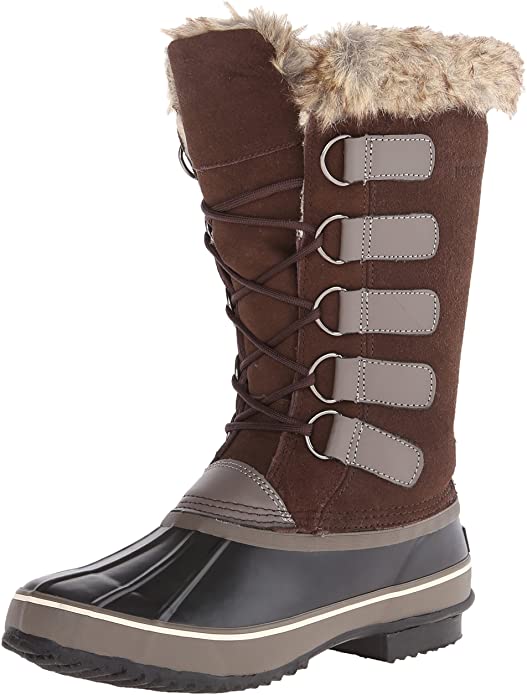 This outdoor classic snow boot offers fully waterproof seam-sealed construction to keep your feet dry/gusseted tongue to keep debris out. It also includes a removable/washable EVA insole and padded collar that offer extra cushioning for your feet; premier 200 gram Thinsulate insulation keeps your feet warm.
For easy adjustments, it has a D ring quick lace-up closure. Plus, the durable multi-directional rubber outsole ensures traction/shock absorption/good abrasion resistance in snowy or icy conditions.
Globalwin Women's Snow Boots Winter Boots For Women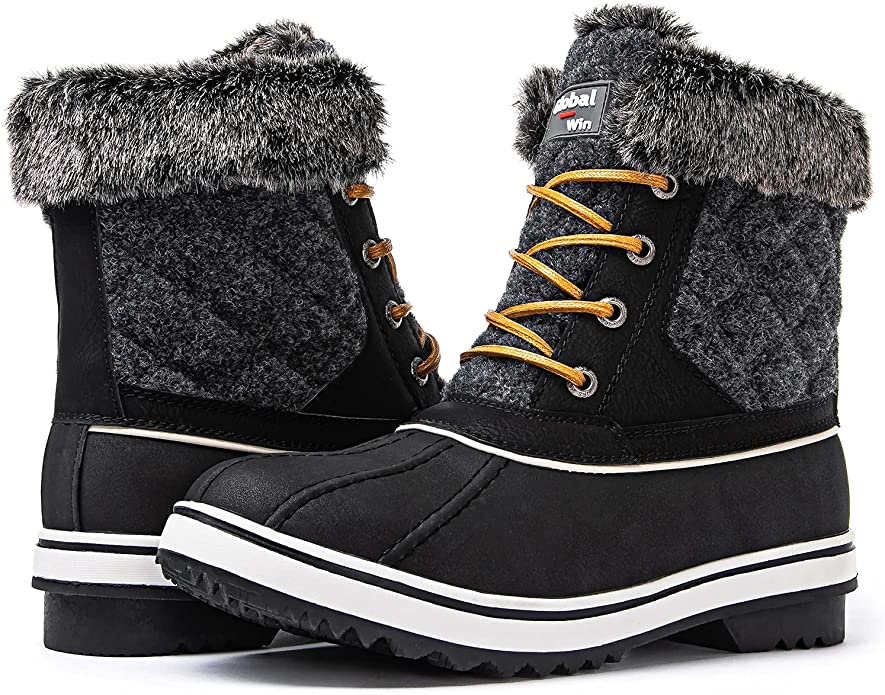 The Globalwin Women's Snow Boots feature a durable and fashionable faux fur upper with an insulated rubber sole to provide warmth and comfort. These shoes also make for fashionable cold-weather women's winter boots that can even match your outfits, making them perfect for any outdoor activity in the winter season.
The boot has a zipper closure which helps with easy on-and-off as well as water resistance (allows splashes of water) through seam-sealed construction.
Each pair is vegan friendly and made of high-quality Italian PU leather at a reasonable price point, giving you sturdy insulation that will protect your feet from harsh elements against its Thermolite insulation rated up to -15 degrees Fahrenheit (-26 Celsius).