When it comes to underwear, one of the most common materials is cotton. Cotton has been used for years because it's soft and comfortable. However, there are many other options available today that may be worth considering if you're looking for a different material or design. One option to consider is microfiber underwear. In this blog post I will discuss what microfiber underwear is made of and its pros and cons so that you can make an informed decision about whether or not it's right for you!
What is Microfiber Underwear?
Microfiber underwear is a type of underwear made from microfiber fabric. Microfiber is a synthetic fiber that is finer than silk. It is usually made from polyester, but can also be made from nylon or other synthetic fibers. Microfiber underwear is designed to be lightweight and comfortable. It is often used by athletes and people who are active because it helps to wick away sweat and keep the body cool. Microfiber underwear is also sometimes called "dry fit" underwear because it helps to keep the body dry.
Microfiber is a synthetic material that has many benefits over regular cotton.
First, it's more absorbent than cotton and wicks away moisture from the body to keep you dryer.
Second, microfibers are odor resistant which means they won't get smelly even if you sweat heavily.
Third, they're quick drying so you'll be able to wear them more often without having to worry about the risk of lingering moisture or bacteria causing an infection.
Microfiber underwear has become increasingly popular in recent years as more people are looking for ways to stay cool and comfortable during exercise or activities in hot weather. The fabric is also resistant to bacteria and odor, which makes it a good choice for people who are concerned about hygiene. Microfiber underwear can last longer and provide more comfort.
Example
Calvin Klein Men's Microfiber Stretch Multipack Boxer Briefs
Calvin Klein men's microfiber stretch multipack boxer briefs are a pack of as many as 3 pairs depending on size. The material is 90% polyester and 10% elastane, which is imported from Asia. There is a pull-on closure and the waistband has Calvin Klein's imprinted logo in black or white ink. Each pair comes with a tag that displays information about the product such as care instructions and what materials make it up (90/10 Polyester Elastane).
You can also find additional benefits such as comfort, contour pouch shape, outside stitching detail, etc. These underwear come in colors white with black accents or dark navy blue color! Great for everyday wear because they are machine washable!
Fruit of the Loom Women's Lightweight Microfiber Underwear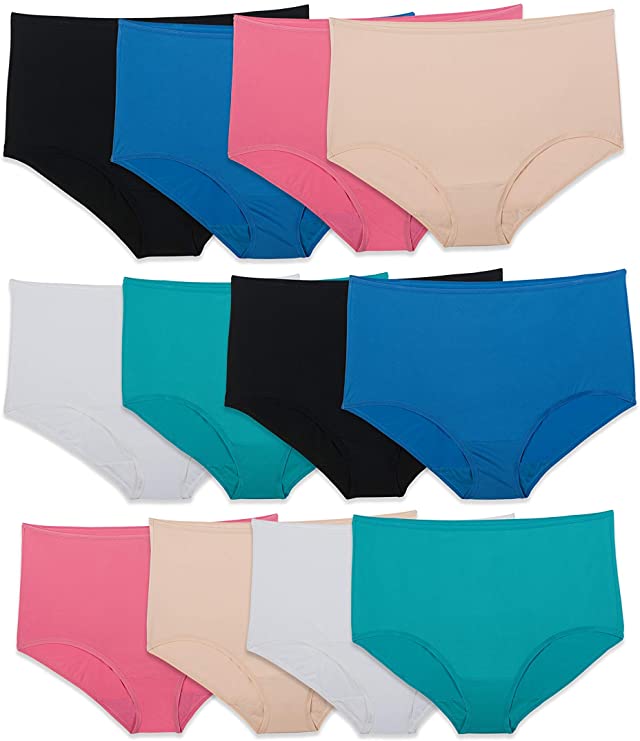 You'll love Fruit of the Loom's Lightweight Microfiber Underwear. Made from super soft microfiber material, these briefs are designed to fit smoothly and sleekly under clothing. The ravel-free waistband is soft for comfort, and the 100% cotton liner provides breathability and coverage.
These quality tag-free briefs are available in regular and plus sizes, so you can find the perfect fit. Plus, they're machine washable for easy care.
Pros and Cons of Microfiber Underwear
Undoubtedly, several advantages can be gained by wearing microfiber underwear. However, like everything else, there are also a few disadvantages to take into account. In this article, we'll go over both the pros and cons of microfiber underwear so that you can make an informed decision about whether or not they're right for you.
Some of the biggest advantages of microfiber underwear include:
They're extremely comfortable.
They help to wick away sweat and moisture.
They're lightweight and breathable.
They're quick-drying.
They offer great support.
They don't absorb odors as some other materials can.
They're durable and long-lasting.
They're affordable.
They come in a variety of styles and colors.
They're easy to care for.
On the downside, there are a few potential disadvantages to microfiber underwear, including:
They may not be as absorbent as some other materials.
They may not provide as much warmth as some other materials.
Some people find them to be less breathable than other materials.
Microfibers can cause itching which may bother some individuals
Some Facts about Microfiber Underwear
Microfiber is a synthetic fabric that is typically used to make sportswear and other activewear. The fabric is known for its moisture-wicking properties, which help to keep the body cool and dry. However, some people worry that microfiber underwear may cause them to smell. The truth is that microfiber is less likely to cause odors than cotton underwear. This is because bacteria thrive in moist environments, and microfiber fabrics are better at keeping the body dry.
Microfiber is also known for being quick-drying. That means that if you are wearing microfiber underwear, it is less likely to become soaked with sweat or moisture and will dry more quickly than other types of underwear.
If you've ever accidentally put your microfiber underwear in the dryer, you know that they can come out of the wash a few sizes larger. But don't despair! There are a couple of ways that you can shrink your undies back to their original size. The first way is to machine wash them in the hottest setting. If that doesn't do the trick, try soaking them in a tub filled with hot water for 5 minutes. Then, let your underwear air dry.