A pintuck is a narrow fold of fabric that creates a smooth, pinched pleat. They can be used to emphasize the waistline on garments like skirts and dresses or to create an ornamental detailing on more heavily embellished clothing items such as blouses. A pintuck can also simply be used for decoration in areas where it's not intended to have any function, such as the hem of a skirt or along the neckline of a shirt.
A pintuck is often a series of folds in cloth that are pressed tightly against each other to create an attractive raised pattern. These can be very narrow, even narrower than the eye can see without magnification, or they may take up much more space and extend outwards from the base fabric like wide pillows. They're typically arranged evenly but sometimes special effects such as spacing them unevenly across materials will make it seem just different enough for your design needs!
Pintucks are traditionally used to add a professional touch to the collar of blouses and dresses. They're often created in groups, with each tuck parallel and next to the other one. Pints always have vertical orientation when placed on the bodice area of any garment. Some people make their tucks in a single line, others randomly cross the fabric.
A pintuck can be placed at the end of a seam, or it can be like a pleat, where one end of the fabric goes through.. In this case, you must tie off the other side to make sure there isn't an opening and for extra security against coming unstitched. A group of open-ended pintucks are also used as darts but they're not sewn closed at both ends which allows them to control fullness more effectively than their dart counterparts because unlike darts when opened up these have two points where they attach instead of just one – meaning fuller coverage on all sides!
Some sewing machines have a special foot that helps you make even tucks. This makes it easier to do because you can control the width and spacing better.
Example
NYDJ Women's 3/4 Sleeve Pintuck Blouse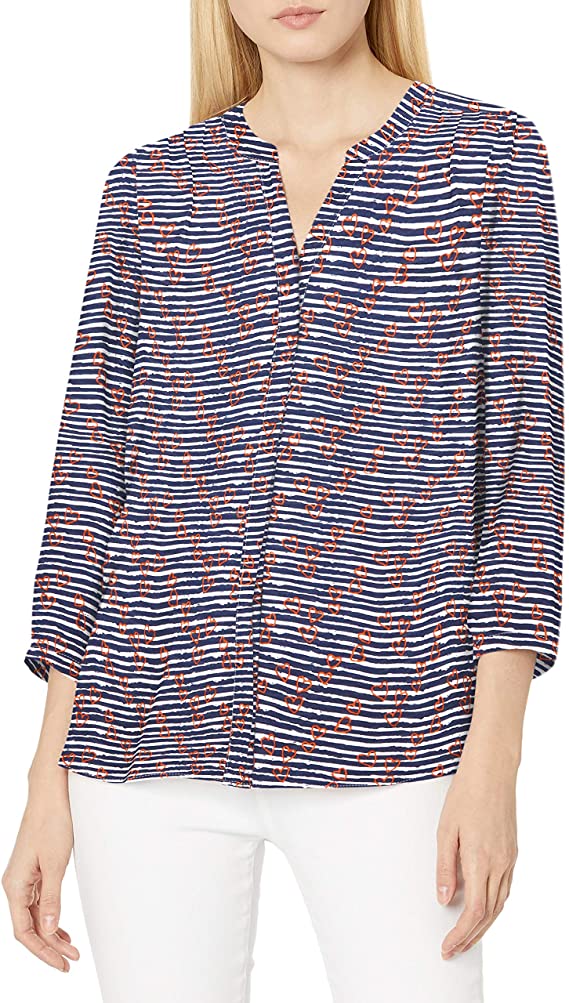 For modern dressing, this NYDJ Women's 3/4 Sleeve Pintuck Blouse is the go-to piece. With a billowy long sleeve silhouette and a subtle pinstripe pattern, you are not only guaranteed with some great wearability but also outstanding sophistication that can be dressed up or down.