Many people are looking for a way to buy and wear leather without the cruelty. This is where vegan leather comes in. Vegan leather isn't just faux-leather that feels like leather, it's actually made from synthetic materials with a texture similar to real animal skins. In this blog post, we'll talk about how you can find vegan products on the market and what they're made of!
Vegan leather is a synthetic material that replicates the look and feel of animal skin. It's made from materials like polyurethane, rather than real animals skins.
The decision to go vegan is not an easy one, but it's the right choice for some. People who like leather but cannot use it can choose vegan leather instead. Vegan leather is made without any animals. It might seem like there would be no similarities between this material substitute and its predecessor – after all, how do you replicate something so time-honored? But in truth they've got quite a few things in common: In both cases we're talking about hides that have been tanned with vegetable dyes instead of chemicals; treated or coated with natural oils rather than toxic substances such as chrome tanning agents (a process which can release dangerous compounds into our environment) or formaldehyde producing resi-n or wet-chemical treatments; and in both cases they're then traditionally finished with oils, waxes, paint, dyes.
You can get clothes, shoes, and other fashion accessories made of artificial leather. They are called animal-friendly. Upholstery, bags and laptop cases can be made with leather alternatives. This material does not use any animal products and is called faux or artificial leather. There is no difference between most types of artificial and vegan leather. They are the same but they have different words to describe them.
The most common types of artificial leather are made from synthetic material. The various types of plastics and synthetics that make up these products vary in thickness, texture, weight, flexibility as well as other factors to produce the different kinds such rubber-like vinyl or faux suede.
One common type of synthetic leather is made from a base fabric coated with polyvinyl chloride (PVC). People who care about the environment and animals do not like this kind of farming.
Polyurethane vegan options are a popular choice because they use less harmful materials to produce. They also come in many different colors which makes it easier to find one that is perfect for your unique style. Some leathers are made from microfiber. It is a thin string like fiber that is made from polyester or nylon.
There are many different types of vegan leather. Some is made from synthetic materials, some may be sustainably harvested cork mixed with other synthetics to make it more durable and pliable. Ocean leather is another form of artificial skin, made from seaweed or kelp. It's not as common or popular because it doesn't withstand water well and can only be dyed with a limited range of colors due to its plant-based nature.
Vegetarians and vegans alike have a plethora of faux leather products at their disposal when looking for upholstered furniture, accessories, or clothing. These materials are tough to differentiate from genuine animal skin in some cases due to the many different textures employed by manufacturers. For vegans, choosing faux leather over natural fiber products that do not resemble the consistency of real leather might be a difficult decision. They wonder whether encouraging people to wear synthetic materials will also encourage them to purchase and use animal-based products like genuine cowhide.
Example
LXY Vegan Leather Backpack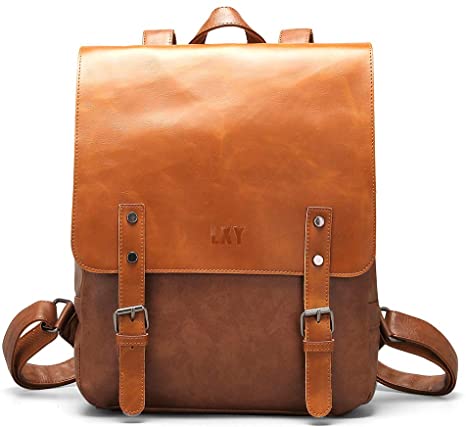 This LXY Vegan Leather Backpack is straight out of the 1950s. Made from high quality faux leather, solid metal hardware on the metal-look straps gives this backpack both strength and a vintage look. Enjoy ample space for all your things with hidden button design and two anti-theft pockets so that you can keep your wallet, phone or laptop safe while using one of the compartments to store small travel documents like passports or ID cards.