Tapered jeans are a style of denim that is fitted at the waist and gradually becomes narrower from the knee down. They can be worn with any type of shoe, but to complete the look you will want to wear them with sneakers or boots. Tapered jeans are great for anyone who wants to feel stylish while still maintaining comfort!
Tapered jeans have a narrow ankle opening to accommodate slimmer footwear. Tapered jeans are a type of denim garment, but they can be designed differently based on the fit. These jeans are often made of a spandex mix, but can alternatively be created with other materials that have some stretch. Over the years, tapered-leg jeans have come and gone in and out of style.
All the materials in tapered jeans are not created equal. The more stretchy your jean, usually means there's a blend of synthetic fibers inside it to make them easier to wear and move in all day long – but that doesn't mean they're better for you or the environment!
Tapered jeans are a clothing item that can be constructed with either high or low waist styles. The smaller leg opening at the bottom of these pants tricks your brain into thinking you have wider hips, making them perfect for people who want to fill out their silhouette and appear more shapely. These jeans are really popular with people who like to wear jeans and boots. The cut of the jean is so that it can be tucked into the boots in a way that makes them look good. Sometimes these jeans are also worn with high heels.
Tapered-leg jeans are a hot commodity in the world of fashion. Long gone are days when your only option was to wear baggies, or risk looking like you were wearing trousers that belonged on a clown at Ringling Brothers and Barnum & Bailey Circus! The most famous male performer who ever wore tapered jeans is Elvis Presley.
In today's modern world, punk fashion is often seen in tapered jeans that are faded and torn. Acid-washed skin tight tapered jeans have also been popularized through music videos of heavy metal bands from the 1980s.
Skinny jeans are a type of tapered jean that features an ankle so slim, the manufacturer must place a zipper at the bottom to make it easier for your foot to fit inside. This is because some skinny jeans feature tight fits throughout and narrow ankles too small for feet without help from spandex.
Jeans with tapered legs come in many different names, but the important thing to remember is that they're always stylish. Some people refer these jeans as "pegs," while others use more colorful terms like "drainpipes." The name doesn't matter so much as what you wear them with – if it's a tight top and heels or just some sneakers.
Example
Lee Men's Performance Series Extreme Motion Straight Fit Tapered Leg Jean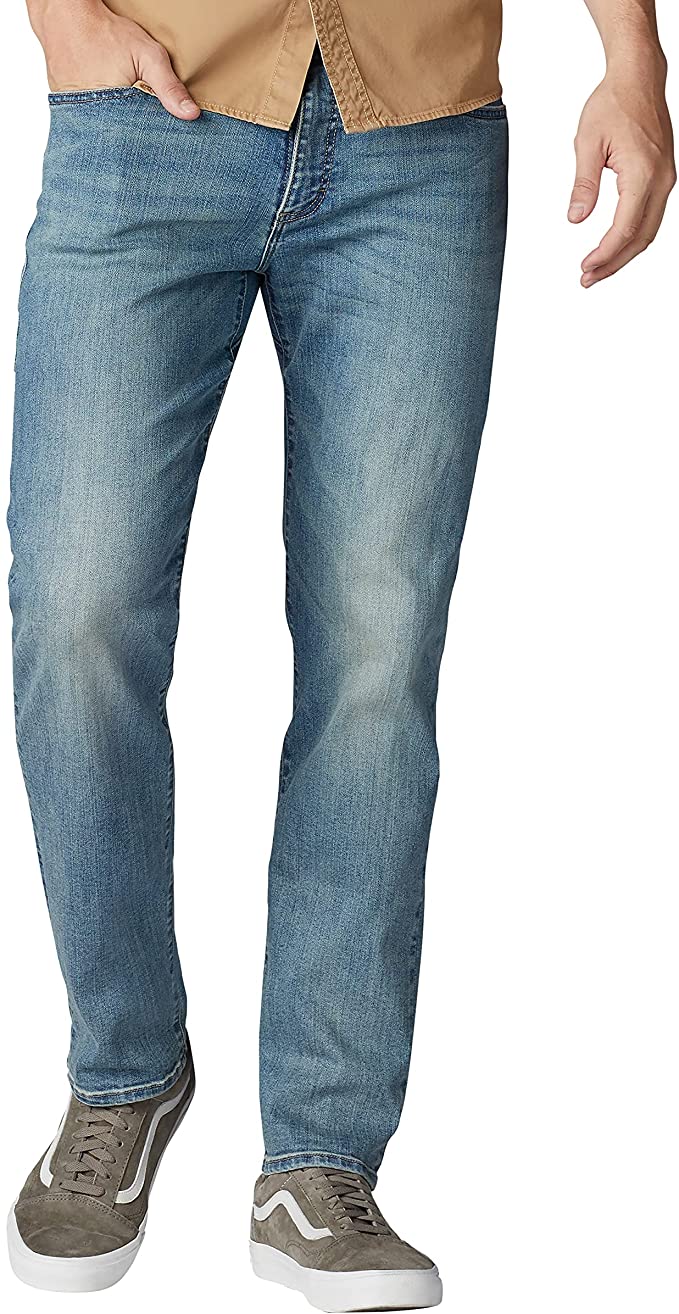 With so many styles, washes and fits to choose from, Lee Men's Performance Series Extreme Motion Straight Fit Tapered Leg Jean has your perfect denim.
Find the features that give you the freedom to wear these jeans on most occasions: our straight-fit jean design offers a classic 5-pocket for timeless styling; a button closure with an Extreme Flex waistband provide comfort no matter how you're feeling.