A checkerboard pattern is a design that features two contrasting colors placed in alternating squares usually 2×2. The term "checkerboard" is derived from the resemblance of the pattern to a checkered chess board and this style has been used as a design element for centuries!
The checkerboard design has appeared and disappeared in fashion three times over the last three decades, and it has been used by numerous musical genres. The checkered pattern is also connected with several art forms, novels, and goods in popular culture.
Example of Checkerboard Pattern in Clothing
Women Checkerboard Print Loose Black and White Plaid T-Shirt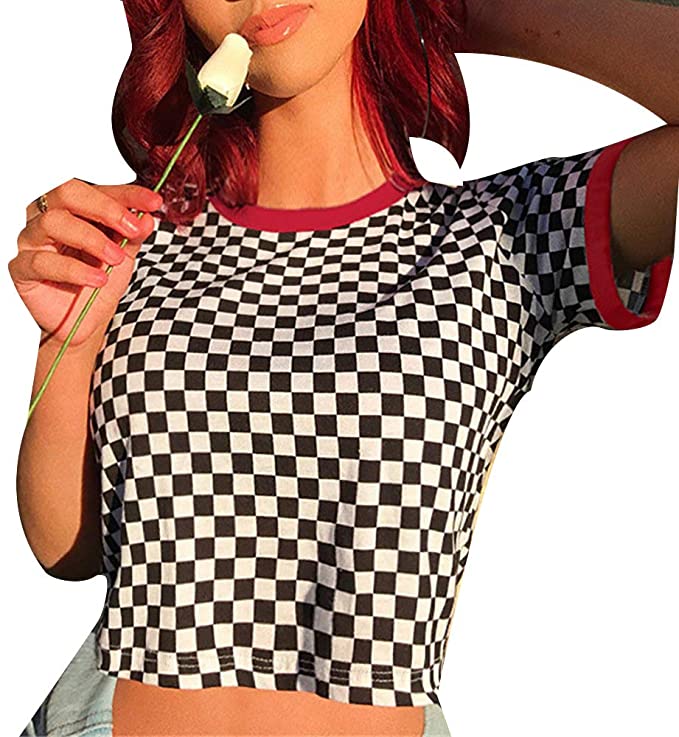 This Women Checkerboard Print Loose Black and White Plaid T-Shirt is quite comfortable, looks cute with your favorite pair of jeans or shorts. You will love its simple design paired with a modern twist! It goes well with all of these outfits plus others any woman would wear on her adventures out in the world.
This shirt also makes for a fashionable outfit to wear during vacations, parties, work days or even spring break trips to the beach. For something fancier it can be layered over blouses for date night glamour or worn under coats in winter seasons when you need casual comfort at home while staying cozily warm indoors.
Types of Checkerboards
In order to elaborate on this idea, we will discuss three main types of checkerboards: 1) plaids; 2) tartans, 3) ginghams. We will also include some common misconceptions about these patterns and their usage.
In fashion, checkerboard has been used since the 19th century in women's shoe designs. In more modern times, the pattern is often used in a diverse array of clothing items ranging from skirts, to handbags! The plaid design is a centuries-old Scottish tradition and was very fashionable in previous centuries in both men and women's garments.
A plaid is characterized by small repeated patterns that are especially popular in casual attire.
Tartans, on the other hand, are more commonly thought of as a traditional pattern for kilts worn by Scottish men though these designs can be found all throughout fashion nowadays.
Ginghams are made up of different shades of the same color placed next to each other in their own individual squares. This style has been used to make polo shirts and shorts, but may also be found in hemlines!
It is important to note that tartans and ginghams can both be referred to as checkerboards but should not be confused with one another because they have completely different origins and uses!
Common Misconceptions
A plaid is a tartan, which may be confusing because they are both checkerboard patterns. In order to avoid confusion, remember that a tartan is primarily used for kilts and sporrans whereas a plaid can be found in casual clothing such as scarves and skirts!
In addition, ginghams have been mistakenly identified as the Scottish national dress when in fact it is a pattern that was created by English designers! This misconception may be due to the similar colors of a gingham and a tartan. Remember that ginghams were primarily made up of shades of one color with no plaid variations while tartans consist of small repeated patterns in different colors!
Finally, if someone tells you they are wearing a checkerboard blouse, they are most likely speaking about a plaid! Remember that tartans and ginghams are primarily used in the fabrics of skirts, scarves, and shorts.