A peasant blouse is a type of shirt with a low-cut neckline, short sleeves and an A-line shape. The fabric of the garment is typically made from cotton or linen. Peasant blouses have been around for centuries and have evolved through time to function in many different ways. They were originally worn by peasants due to their simplicity and affordability, but they are now more commonly seen as a fashion statement because of how versatile they can be.
What Does a Peasant Blouse Look Like?
Peasant blouses have a very casual appearance, and this type of shirt typically features loose-fitting sleeves. A peasant blouse also tends to be made from soft materials such as cotton or linen that are meant to keep you cool during warmer weather!
In terms of its neckline, the most common style is a low cut V shape with a rounded collar.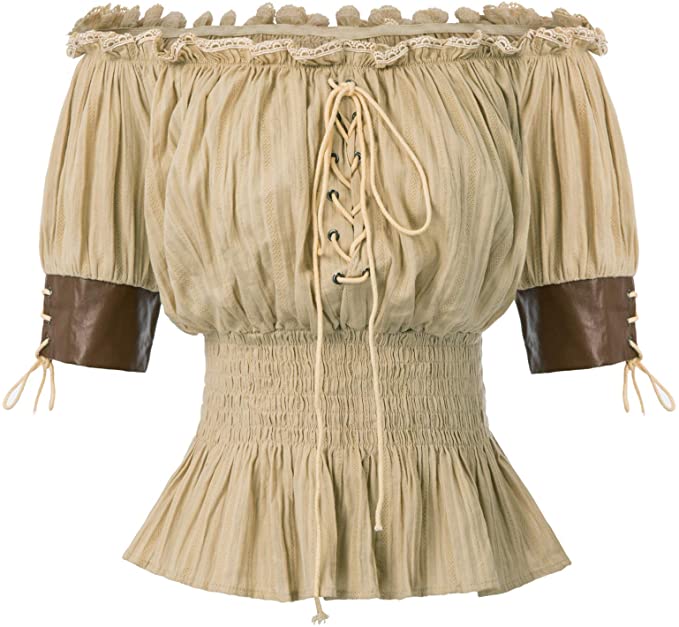 The peasant blouse is characterized by a puffed sleeve, gathered at the wrist with a square neckline. Usually made from white cotton or other lightweight fabrics such as silk and chiffon, they can come in different colors like pastels and bright shades that add to their appeal.
More recently it has been embellished with delicate embroidery along the arms and shoulders; beaded detailing makes for an eye-catching design while lace trims are also quite common on this type of top.
The peasant blouse look is a favorite among designers when they are looking to design their spring and summer collections. So if you're looking to score a peasant blouse, but can't find any in your size at the vintage store or thrift shop of choice and don't want to buy one that doesn't fit right, it isn't too difficult for new ones.
But recently there has been this trend towards making these fitted with more modern details like fuller sleeves.
What Are Its Functions?
Peasant blouses have a simple and casual appearance, but these shirts are also extremely versatile! This type of shirt is perfect for wearing in warmer weather because it keeps you cool with its lightweight fabric!
Peasant blouses can be worn to any occasion; they look great paired with jeans or leggings for an everyday outfit.
These types of shirts can also be dressed up by adding accessories like jewelry or scarves. They're even perfect when worn alone during the summertime!
If you want to achieve that classic French country style, peasant tops go perfectly underneath bandeaus or bralettes–just make sure not to wear another top underneath your shirt so everyone knows what's going on underneath!
Peasant blouses have been around for centuries and these shirts continue to be a staple piece in every woman's wardrobe. They are extremely versatile as they can easily be dressed up or down, making them perfect for any occasion!
This type of shirt is also lightweight which makes it great during warmer months when you want something cool and comfortable to wear at the same time!
Peasant tops offer the classic casual appearance that we all love with its loose fitting sleeves, low cut neckline V shape, rounded collar and affordable fabric.