Push-up bras are a staple in the underwear section of many stores. They seem pretty straightforward to use, right? Wrong. Despite their popularity and usefulness, there are some things about push-up bras that you might not know!
What is a Push-Up Bra ?
The push-up bra is a specially designed piece of lingerie that can make anyone feel more confident in their body. The mechanics behind the design rely on overflow, making your breasts look larger and fuller by bringing them up closer together from underneath than they normally would be positioned without one. This effect also creates cleavage where there may not have been any before! To achieve this result, designers typically include stiff underwire or excess padding at the bottom of cups to force everything upward for maximum enhancement.
For some women, the push-up bra offers more than just shape and support. Women will often use this type of brassiere to fill in for a lack of breast tissue or natural padding that may have been lost due to an extended hormonal imbalance such as PCOS (Polycystic Ovarian Syndrome). The pads are usually foam but can also come with silicone inserts which give breasts their own personalized bounce back when they're lifted up.
Mimicking real womanly curves is easy to do by adding water filled cups into your bras – it's like giving yourself two free implants without expensive surgery! By using these simple yet effective tricks you'll be able to get the look most desired: fullness at all times even if there was once something lacking.
Some women may find their desirability linked to the size and shape of their breasts, but others don't think that way. Some experts believe that women who worry over their breast size could be victims of psychological insecurities brought about by media advertising promoting beautiful and busty models as idealized beauties irrespective of individual body type.
Example
Smart & Sexy Women's Maximum Cleavage Underwire Push up Bra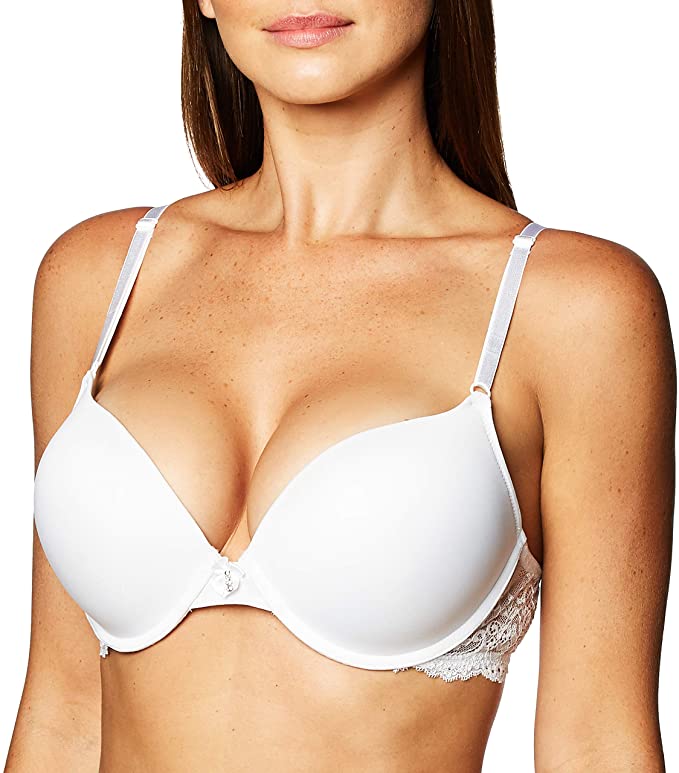 Women can add an instant boost of cleavage to any outfit with the Smart & Sexy Women's Maximum Cleavage Underwire Push up Bra. This undergarment features a sexy handkerchief hem, adjustable straps and hook closure that adjust for size and provide a custom fit for every woman. With 93% nylon and 7% spandex as well as a built in push-up pad, this bra gives you two cup sizes instantly. The extreme push-up pads also help support your breasts by filling out the lower portion of the bra cups so you get noticeable cleavage in front or back dress styles. The maximum cleft design is not suitable for everyday wear but it works wonders on special occasions like weddings, dinners, date night parties.
7 Surprising Ways a Push-Up Bra Works
Wearing a push up bra can give you cleavage that you might not have naturally. This is because the push up bra gives your breasts an extra boost, bringing them closer to each other and giving them a more attractive shape.
It may seem like wearing a pushup bra would make it difficult for people to see your bra straps, but it actually does the opposite. The extra padding in a push-up bra not only helps to give you cleavage, but also hides your bra strap and makes it more difficult for people to see them.
If you are going with a backless dress or top that is very fitted at the bust line, wearing a push up bra can make sure that everything stays put! This type of dress or top will usually have some kind of built in support for your breasts, which might not be sufficient enough if you're on the smaller side. A push up bra is perfect because they provide just enough extra boost without making it feel like there's too much material stuffed into one area.
There are even garments nowadays that are designed to be paired with a push up bra. For example, some dresses or tops have built-in cups that can accommodate your breasts without wearing an actual bra beneath them.
A lot of women find themselves experiencing discomfort and pain when they wear bras for too long because their band size is too big (or the cup doesn't fit). This happens because there isn't enough support from the back closure, which means more pressure on the front strap area. A pushup bra provides additional padding near this part of your body so you're less likely to experience any type of discomfort or pain in these areas!
If you like fuller coverage under garments but want something that's still sexy and appealing, then a push up bra is an excellent choice! Most push up bras are designed to give you a fuller, more flattering silhouette that is perfect for wearing under your clothes.
Finally, if you're having trouble with the straps of your bra being seen or showing through tight clothing then a pushup bra will be helpful. Pushup bras often have thicker straps and padding around this area so they don't show as easily in tight outfits!
These 7 surprising ways a push-up bra works may not seem like much on their own, but together they make all the difference when it comes to making sure our breasts look good at any event we go to!