A scoop neck is a type of shirt collar that dips down in the front or back. It can be worn as an undergarment, but it's most often seen on tops and dresses. The term "scoop" refers to the shape of the neckline which resembles a spoon bending downward at its handle. Scoop necks are known for their ability to flatter many different body types, from full-figured women to petite girls.
The scoop neck is a classic design that never goes out of style. It's simple and easy to wear, but don't let its simplicity fool you – the scoop neck can be super stylish! The scoop neck really comes into play in the wintertime when layering becomes necessary. A thin crew-neck tee underneath a sweater or cardigan creates a seamless look with a hidden benefit: it showcases your collarbone without having to show skin.
There are two ways to make a scoop neck. One is a semi-circle shape. The other is shaped like the letter U. Scoop necks can be seen on both men's and women's clothes, and are very similar in design.
When deciding on a scoop neck top, considerations must be made for the occasion. A high-neckline is great if you work in a conservative environment and want to keep things professional; but they can feel restrictive when it's hotter outside so try out some lower necklines too!
Being a woman is difficult enough without having to worry about what bra you will wear underneath your clothes. One of the most common problems with wearing scoop neck tops, high-necklines and medium cut tops are that they reveal some cleavage when worn by itself. In order for this not to happen, women must have an appropriate matching bra under their clothing so there can be no chance of unintended exposure on top or below where it belongs!
When you're out at work looking professional doesn't mean boring–be creative in how you describe things like bras and tops!
There are many factors to consider when choosing a necklace with your scoop neck shirt. The most important is the chain or pendant should not fall right on top of your chest, but rather it needs space between itself and the fabric so that it can lay as flat against you as possible; this will allow for an optimal look where both pieces complement each other nicely without creating too much attention from onlookers who may think they see something inappropriate at first glance!
When wearing fashion jewelry such as chains connected by small rings called jumprings, one great placement tip is to position them in front of you under the collarbone area (not around) which gives off a more elegant vibe than having them all over your skin like some sort of rash. This creates a cleaner, more finished look.
An easy way to tell if a scoop neckline is flattering or not is by checking out the shoulder area.
It's important to have the right tools for every job. This is especially true when it comes to your clothing options and what you wear under them, which can be a matter of comfort as well as style preferences! A scoop neck top may not work with everyone, but there are plenty of choices in terms of depth that will suit most people no problem.
Example
Daily Ritual Women's Standard Jersey Long-Sleeve Scoop Neck Shirt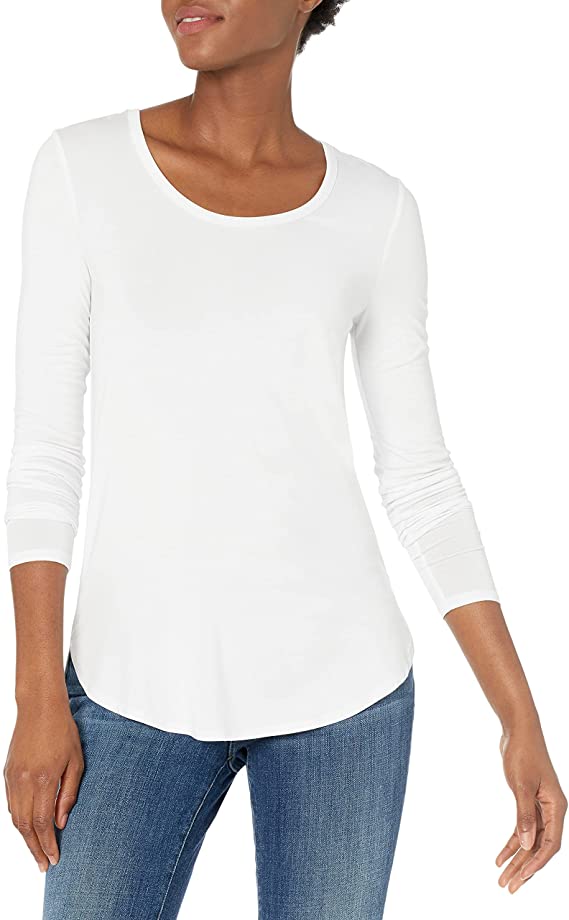 Stretch, drape, and shape – in luxe jersey perfect! This Daily Ritual Women's Standard Jersey Long-Sleeve Scoop Neck Shirt is for a woman who knows that one piece can work in a million ways. With the look of a fitted T-shirt and the stretchy comfort of cotton knit, this long sleeve top pairs perfectly with your favorite jeans or high-waisted skirt for endless outfit combinations – just tuck it into bootcut pants to transform it from day to night. Lustrous fabric gently shapes all body types, only falling out of form at the cuffs where both slimming darts help keep sleeves straight and flat no matter how you move.